Your life as a Giraffe begins here
If you are passionate about finance, keen to contribute actively to the energy transition, and want to work in a dynamic, international and fast paced environment in a team that thrives on delivering high quality results whilst having a collaborative and fun working atmosphere, you should definitely consider joining us and becoming a Giraffe!
Advancing the global energy transformation towards sustainable power systems requires a rapid scaling-up of the renewable energy ecosystem and a paradigm shift in investment patterns. Every day, 100+ Giraffes spread out globally on 5 continents work together to provide tailor-made advisory services to their clients across the renewable energy value chain.
We bring value to our clients and the projects that we work on through the quality of work we deliver, our wide and in-depth knowledge of the markets, and our independent and honest advice.
We believe in transparency and teamwork, in taking ownership and going the extra mile for our clients and we make time to celebrate successes, milestones and personal achievements together.
As Green Giraffe grows, enters new markets, and paves the way ahead for the entire renewable energy business value chain, we are looking for people with an entrepreneurial mindset to challenge the norms and push the envelope of possibilities.
Join the team
Explore relevant opportunities at Green Giraffe
Open positions
Hiring process
We have optimised our recruitment process to make it more efficient and transparent. Based on the candidate's availability, we aim to wrap up the recruitment process within 30 days of receiving the application. Here's what a typical transformation to a Giraffe looks like:
Application reviewed
Your application is screened against a number of parameters
Get to know each other
You are invited for an introductory meeting with one of our HR team members
Interview and assignment
The selection committee invites you for an interview and you may be asked to take a financial modelling test, or complete an assignment
The final round
You are invited for a final round of interview
Offer
You are welcomed into the herd of Giraffes and your onboarding begins
Working At Green Giraffe
Immersive & holistic experience
From day one, Giraffes are exposed to high profile clients and colleagues who have a strong will to share knowledge, which helps them learn, adapt and grow quickly. From the get go, you will be exposed to various workstreams (financial modelling, due diligence management, market research, documentation revision & negotiation, participation in commercial efforts, etc.), a large variety of deals and a wide range of renewable energy technologies.
You learn, train and grow
Giraffes learn a lot on the job and are offered structured internal training (financial modelling, debt, equity). You will be highly encouraged to chart your continuous professional and personal development journey via formal training programmes sponsored by the company, be it technical skills such as finance, accounting and excel or soft skills such as public speaking, time management and constructive feedback. Your individual development and performance will be discussed during regular discussions with the Head of your office (twice a year) as well as on the occasion of informal catch-ups happening on a daily basis.
Stimulating international environment and global career opportunities
As new missions/deals are staffed with teams spread out across our different offices worldwide, Giraffes have the opportunity to work with colleagues and on projects around the globe. The dynamic and global nature of the work is a great source of variety, motivation and excitement in your job.
All Giraffes are encouraged to regularly travel across offices to meet with colleagues working abroad, which strengthens the One Green Giraffe spirit.
Opportunities to work abroad from another office on a short- or long-term assignments are also available for those interested.
Be yourself and co-create an agreeable work environment
The very high retention rate (more than 50% of Giraffes have been in the company for 3+ years, with many having been around for 5+ years) and the high satisfaction ratings received through our comprehensive annual internal engagement surveys (4,22/5) speak for themselves in showing Green Giraffe is a great place to work.
We actively promote a culture of collaboration, trust and active feedback sharing. We organise regular informal team events in each office, as well as an annual company event reuniting all employees from all offices to continue fostering the One Green Giraffe spirit.
We care about your professional development and personal wellbeing. Giraffes have 24/7 free access to online professional support (ergonomist, psychologists, legal experts, etc.) to help them with their personal life events, and are regularly proposed the opportunity to attend workshops on various topics around personal wellbeing such as mental and physical health, resilience, understanding and managing stress, and science of sleep, among others.
We are consciously working on promoting equity, diversity and inclusion within Green Giraffe. We are in a constant process of learning about and rooting out unconscious bias to ensure that we create an equitable environment for everyone. We are working on our EDI agenda with the inputs and constant feedback from all Giraffes. Growing from 40+ team members across four offices in 2016, today we are an international and diverse team of 100+ spread across ten countries. With an average age of 33 years old (ranging from 24 to 58 years old), 43% women with an increasing female representation at leadership levels, more than 19 languages spoken within the team, and giraffes with different educational backgrounds, religions, sexual orientations, and lifestyles, each of us brings a different view on topics that is invaluable for the company. We believe that our diversity and unique company culture set us apart and make us successful. On top of the stimulating fast paced sector in which we operate, our team of Giraffes makes Green Giraffe an enriching place to work.
We respect our company, colleagues and clients equally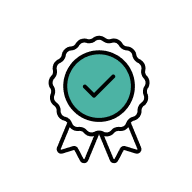 We trust each other's competencies
We share knowledge
We are hands on and entrepreneurial
We adhere to the One Green Giraffe spirit
We have fun